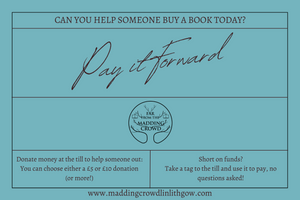 We believe that books should not be a luxury, or an extravagance, and that anyone who wants to buy a book should be able to!
So we have set up a Pay It Forward scheme in the bookshop to help people who are a bit short on funds to be able to buy books!
Any customers who can afford to can donate money to the scheme, and then anyone who needs a bit of extra help paying for their books can take one of our Pay It Forward tags to the till and use it towards their purchase, no questions asked!
If you would like to donate money to the Pay It Forward scheme, please select a value for your donation above and your donation will be added to our Pay It Forward board!