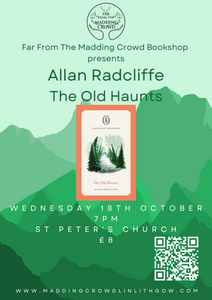 ALLAN RADCLIFFE
WEDNESDAY 18TH OCTOBER, 7PM
ST PETER'S CHURCH, LINLITHGOW
Allan Radcliffe is a freelance journalist, a theatre critic, and an author. He's written short stories which have been broadcast on BBC Radio 4 as well as published in a variety of anthologies.
The Old Haunts is his debut novel, a wistful coming-of-age story about Jamie, who has been recently bereaved and finds himself reliving bittersweet memories of his childhood and adolescence. When his boyfriend is called away for work, Jamie can no longer avoid the pull of his past, and decides to confront his unresolved feelings towards his parents.
Tickets are £8
This event will be available on zoom, please email sally@maddingcrowdlinlithgow.com for details.